Hello Kitty Must Die, The Musical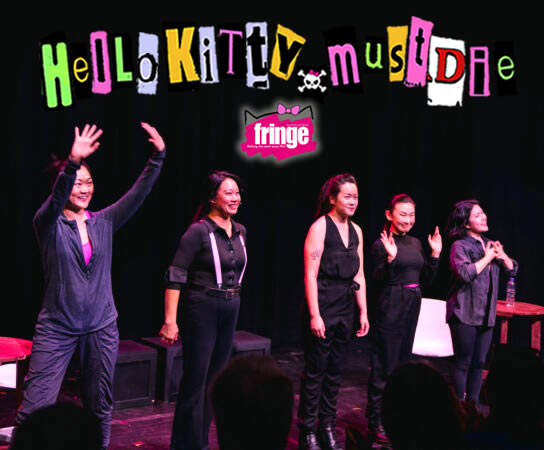 World Premiere
Presented at Edinburgh Fringe Festival
August 3 – August 27, 2023
Book by Kurt Johns and Gail Rastorfer
Composed & Orchestrated by Cecilia Lin
Lyrics by Jessica Wu
Directed by Kurt Johns
Produced by Alchemation
Starring Sami Ma
Starring Lennox T. Duong
Starring Jully Lee
Starring Ann Hu
Starring Amy Keum

READ REVIEWS
From the producers of SIX and The Play That Goes Wrong, this wickedly dark comic musical is set to be the smash hit of the Edinburgh Fringe.
Based on the cult novel by Angela S. Choi, 'Hello Kitty Must Die' is the best written show at the fringe so far this year. A complete drama, a riveting narrative, a musical full of humour and sass; there's nothing quite like it.
Fiona Yu is a Chinese-American lawyer struggling against the stereotypes enforced upon her by her parents, and society. A good Chinese girl must cook and clean, a good Chinese girl must not do 'boy activities', a good Chinese girl must get married (soon!) and she must do as everyone pleases but herself. In 'Hello Kitty Must Die' we follow Fiona as she rebels in the most delicious, diabolical ways.
---